Change of Life
$50,004
Raised from $50,000 MXN
Closed Project
This Project Ended on March 15, 2019
About this project
(Español abajo)The project is in Mexican pesos, 65000 corresponds to 3,500USD (1USD=19.20 MXN). So if you want to donate, for example 100 USD, you should write: 1920

The website is in Spanish, because we could not use other platform. Please let us know if you need any help!! Click on "APORTAR" to make a contribution.
My name is Rosine, and I'm from Rwanda. In 2013, I started an adventure in Somalia passionately. I knew about the insecurity and the high risk in the country, but the love and conviction I have for helping people in trouble was above my fear. I know God has made a way for me and always protects me. So I moved to Somalia and started working as a medical teacher and dean of the Faculty of Midwifery in a university, as I am a midwife and a nurse myself. During my time in Somalia, I participated in developing the curriculum for the midwifery programs, and implemented them in the university where I was working. Successfully 120 midwives have graduated since my contribution to the project, and I am happy that back in their communities, they are significantly improving maternal and children health.
At the same time, I started managing the programs for Caritas in Puntland, mainly coordinating emergency aid in remote areas, where no one can reach, and where people are really in need. We also started a project for refugees in Somalia. Although the conditions were very difficult on the ground, I loved to be able to do something for the people in need, and I'm grateful I was able to do it.
My life changed on February 4th, 2019 when the Islamist group Al Shabaab shot to death a port manager that I was very close to. I ran to rescue him, and I found him dead in the hospital. I helped to arrange his body and transport him into the cold chamber; I just wanted him to die with dignity. I also struggled to protect his face, so that no one could take a picture of it, as the local community was against him. On 5th February 2019, I received through the administration of the university the news that I was the "next target" because I helped him. Things got worst and two days after I fled from Somalia, with only my backpack and no possibility to go back.
Despite all this, I still want to dedicate my life to the people in need, but not in Somalia anymore (as my life is in danger). I applied for a 3-month course on Tropical Medicine in Belgium (University of Tropical Medicine) and got accepted, but I have literally nothing! During my time in Europe, I'll still work from a distance, so I will be able to manage more or less my living there, but I need your help to get there, change my life, and boost my opportunities to keep working in the humanitarian world.
I cannot thank you enough for your help to change my life. I promise to keep doing my best and work for the good of the most needed. Even a small amount helps a lot! THANK YOU!
Comment from the creators of the campaign:
Rosine has dedicated her life to humanitarian work and mainly, during the past five years in Somalia, where she worked for the university and also followed Caritas' projects on the field. On February 4th, her life changed when Paul, a man who worked in the port of Bosaso, and of which Rosine was very close, was murdered. She had to do everything, from watching him die, to preparing his body for expatriation. In the hospital, nobody wanted to touch him because he was "Jewish," although he was not. Then they accused her and threatened her. The next day we bought her a ticket to leave the country and come to Djibouti, the neighboring country.
Rosine can not return to Somalia because her life is in danger, but she has the opportunity to change her life. She applied to a university in Belgium to study tropical medicine for three months, and then be able to apply for a scholarship to study a master's degree. We think this is the best for her, so we want to help her! Any contribution is valuable, as she left only with one backpack!
Thanks a lot!
About her...
I've known Rosine for a year and a half, and I can honestly say that she's one of the most beautiful people I've ever met. She is an amazing human being, ready to help others all the time, kind and generous. She deserves the world.
I know that I have many good and generous friends that are always willing to help. The time period is short and the quantity we have to raise significant, but I know we can do it. Thank you!
Explicación en Español
Rosine ha dedicado su vida al trabajo humanitario y particularmente los últimos 5 años en Somalia, en donde trabajaba para la universidad y además seguía los proyectos de Caritas en campo. El 4 de febrero cambió su vida cuando Al-Shabab, un grupo terrorista ligado a Al-Qaeda en Somalia, asesinó a Paul, un señor que trabajaba en el puerto de Bosaso, y del cual Rosine era muy cercana. Le tocó hacer todo a ella, desde verlo morir, hasta preparar su cuerpo para la expatriación. En el hospital nadie lo quiso tocar porque era "judío", aunque no lo era, pero es difícil para ellos distinguir entre los no musulmanes. Después de eso, la gente empezó a hablar de ella, de la "mujer que ayudó al judío y lo tocó". Según ellos, no pueden tocar un cuerpo de alguien no musulmán (esto no es parte del Islam, pero sí de la manera en que se los han enseñado). Entonces la acusaron y amenazaron por no ser musulmana tampoco. La universidad para la que trabaja le dijo que se fuera a un hotel por unos días sin salir, pero al día siguiente le compramos un boleto para salir del país y venir a Yibuti, el país vecino donde yo vivo.
Rosine no puede regresar a Somalia porque su vida corre peligro, pero puede cambiar su vida. Aplicó a una universidad en Bélgica para estudiar medicina tropical por 3 meses, y después aplicar a una beca para estudiar la maestría. Creemos que es lo mejor para ella, pero no tiene literalmente nada. Salió de Somalia con lo que le cupo en una backpack y está refugiada aquí.
Sobre mí y ella personalmente:
Mi nombre es María José, soy mexicana y trabajo también para Somalia, desde Yibuti. Conozco a Rosine desde hace año y medio y sinceramente puedo decir que es una de las personas más buenas que he conocido. Es una mujer sumamente luchona, entregada a los demás y generosa. Se merece el mundo entero. Dejó todo, no tiene nada y es por eso que le estoy ayudando a hacer esta campaña. Sé que tengo muchos buenos amigos que son muy generosos y siempre están dispuestos a ayudar. El periodo de tiempo es corto y la cantidad significativa, pero sé que lo podemos lograr.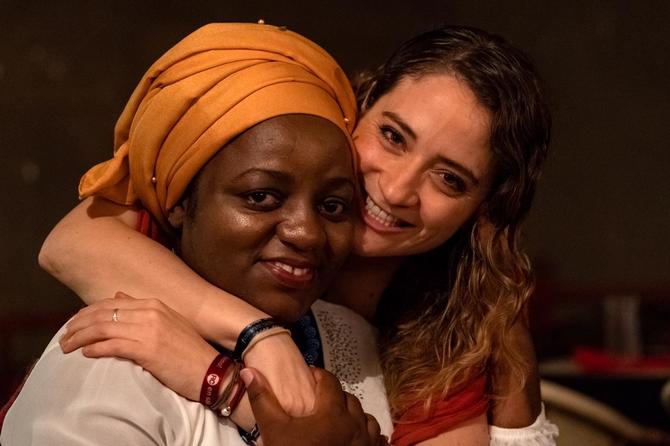 ¿Quieres Ayudar?
Puedes apoyarme mediante una aportación en línea y compartiendo mi proyecto con tus amigos en Redes Sociales, WhatsApp, y correo electrónico, para que se corra la voz y pueda llegar a la meta lo antes posible.
¿Cómo Realizar una Aportación en Línea?
1. Da click en el botón de "Aportar".

2. Te pedirá iniciar sesión en tu cuenta de inixar; en caso de no tener una, puedes crearla fácilmente con tu correo electrónico o redes sociales, aquí:
https://www.inixar.com/registro/nuevo
.
3. Podrás escribir la cantidad que deseas aportar y seleccionar una de las increíbles recompensas que tenemos para ti.
4. Da click en "Continuar" y selecciona tu método de pago entre: Tarjeta de Crédito/Débito, PayPal, Depósito en Bancos, Transferencia Electrónica (nacional e internacional), y Depósito en Tiendas de Conveniencia (7-Eleven, Soriana, Farmacias Guadalajara, Tiendas Extra, entre otras).
5. Da click en "Continuar" para finalizar. Si tienes alguna duda o necesitas ayuda, puedes pedir soporte en el chat en línea que se encuentra en la parte inferior de la página, al correo soporte@inixar.com, o al Whatsapp:
+52 81 1904 6303.

6. Por favor Comparte. ¡Muchas Gracias!


Contact information
Please make a donation to view contact info