About this project
Follow the Facebook page
How did I get here?
A few years ago, I believed that the aerospace industry was a study area reserved only for citizens of highly developed countries and bright minds that I couldn't compare to.
Nevertheless, I never lost interest and curiosity about aerospace science and technology. It was until I had the opportunity to participate in the International Air and Space Program at NASA, obtaining the first place 2 years in a row, when I realized that to make my way in the aerospace sector, I didn't need to be a genius, but a highly motivated, committed and very persevering engineer.

Nowadays, I am studying the 5th semester of Engineering in Mechatronics, awarded a 90 percent scholarship with the Academic Talent recognition at Instituto Tecnológico de Monterrey.

Although I could not study Aerospace Engineering, as it was my desire, since the beginning of my degree I tried to get involved in everything related to aerospace issues, as being part of the Astronomical Society of the Tecnológico de Monterrey, where we disseminate the science of space making it accessible for Audience of all ages.

On the other hand, I have been working in aerospace technology research and development together with my professors and in conjunction with the Tokyo Metropolitan University. We work with projects such as the development of a robotic space arm, gyroscopes and autonomous landing systems. I'm also part of the group SPACE MAKERS from university where we make all these projects possible.



Road to NASA

I was filled with excitement and lots of hope!
As soon as I saw the publication of the call to do a research stay at NASA's Jet Propulsion Laboratory.
I put a lot of effort into creating a good application, ordering my resume and highlighting, above all, my passion for space. This is an achievement that goes beyond an application, it is the work of years of perseverance where I constantly pointed to a single goal ... space. I was just waiting for the opportunity!

Thanks to the profile they managed to see in me, I was selected as one of the only 3 people from all over the country to do a research stay at NASA's Jet Propulsion Laboratory, being the only woman.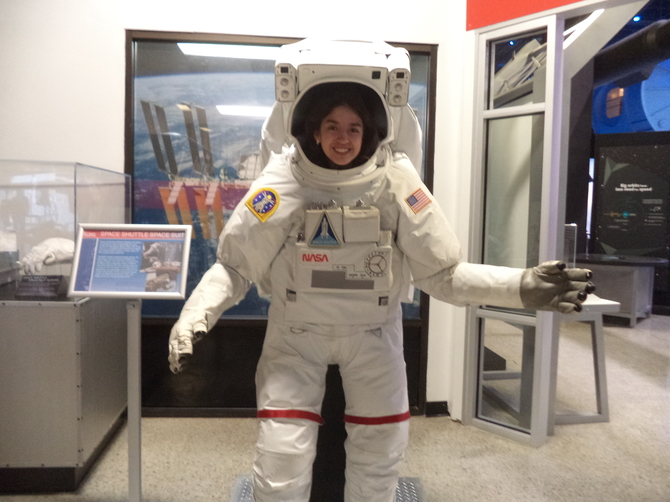 However, so that I can continue with the process, according to the rules of NASA, the financing for this trip can NOT come from the personal funds or family. It must come from companies, universities, foundations or third parties.

I am asked to provide proof of funds of at least 2,400 USD per month to cover accommodation, transportation, food, among other expenses. Being a 5 month stay, a total of 12,000 USD is needed.
Your financial support will NOT stay in me!

I want to give back EVERYTHING in a future. If I succeed in this campaign, I will be immensely grateful to society and also to a great debt towards it.

As soon as my possibilities allow me and throughout my life, I want to return all this financial support to young Mexicans who, like me, have dreams of science and of course I will also ask them to give it back to the next generation.
Not only do I ask you to support me, but to invest in Mexico

How can you help? Donate and share!

Any contribution will be infinitely grateful, there is no small contribution.
SHARE my story, it is a very important help
Help me put the name of Mexico so high that it touches Mars!

You can support me through an online contribution and sharing my project with your friends on Social Networks, WhatsApp, and email, so that the word spreads and Iu can reach the goal as soon as possible. I have prepared incredible rewards for you.
How to make a contribution online?

1. Click on the "Donate now" button.

2. You will be asked to log in to your login account; If you don't have one, you can easily create it with your email or social networks, here:
https://www.inixar.com/registro/new
.
3. You can write the amount you want to contribute and select one of the incredible rewards we have for you.
4. Click on "Continue" and select your payment method between: Credit / Debit Card, PayPal, Bank Deposit, Electronic Transfer (national and international), and Deposit in Convenience Stores (7-Eleven, Soriana, Pharmacies Guadalajara, Extra Stores, among others).
5. Click on "Continue" to finish. If you have any questions or need help, you can ask for support in the online chat located at the bottom of the page, to the email support@inixar.com, or to Whatsapp: +52 81 1904 6303.

6. Please Share. Thank you so much!