Prevención de Salud para Víctimas del Terremoto
$51,230.80
Raised from $50,000 MXN
Closed Project
This Project Ended on October 08, 2017
About this project

El pasado fin de semana estuve en dos localidades de los estados de Puebla y Morelos que fueron afectadas por el terremoto del pasado 19 de septiembre. Pude observar una verdadera emergencia de salud dada por las condiciones reales para vivir. Miles de familias viven actualmente a la intemperie y carecen de servicios sanitarios. En respuesta a dicha emergencia, la Asociación Mexicana de Medicina de la Conservación Kalaankab AC (
http://www.kalaankab.org/brigada-une.html
), RE-CREA AC (
https://es-la.facebook.com/recreamexico/)
y AMA MEXICO (
amamexico.org.mx
)
formamos la brigada UNE (Una Salud para Emergencias).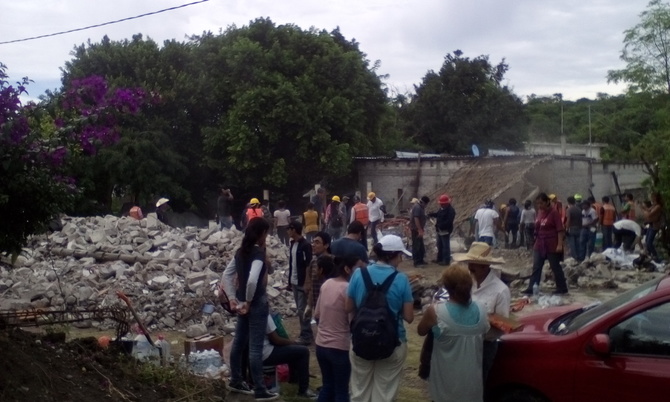 Somos un grupo de Asociaciones Civiles comprometidas con el bienestar social en los ámbitos de salud, educación, desarrollo sostenible, agua segura y soberanía alimentaria.

En estos momentos de crisis se ven comprometidos elementos básicos para vivir, tales como: el acceso a agua segura, servicios básicos de salud y un techo para resguardarse de la intemperie. Por lo tanto, es urgente actuar activamente.
Se reconoce que después de estos eventos naturales colapsan los servicios de salud por la alta demanda para la atención de daños directos o indirectos asociadas al evento (heridas, dolor, malestares). Posteriormente, es común que emerjan enfermedades transmitidas por agua (gastrointestinales) o por vectores, que principalmente afectan a niños. Sin la debida y pronta atención, se puede llegar a un problema sanitario generalizado en las zonas afectadas. Para procurar y promover la salud integral de las comunidades más vulnerables aplicaremos medidas inmediatas de prevención de enfermedades y educación para la salud. A mediano y largo plazo incorporaremos una estrategia de educación ambiental y desarrollo sostenible para la adecuada reconstrucción de las zonas afectadas.
Plan de Acción Prevención de Enfermedades y Educación para la Salud
Instalación de lavabos portátiles en casas y purificadores de agua en lugares comunes (albergues).
Capacitación sobre el uso de adecuado de los lavabos.
Talleres e infografías del cuidado de la salud.
•Lavado y desinfección de manos.
•Lavado y desinfección de artículos de cocina.
•Lavado y desinfección de frutas, verduras y latas.
•Higiene personal con poca agua.
•Prevención de enfermedades gastrointestinales y transmitidas por (artrópodos y vectores)
Educación Ambiental y Desarrollo Sostenible
Construcción de infraestructura sostenible.
Talleres y actividades didácticas para el cuidado del medio ambiente y desarrollo sostenible.
•Manejo de basura y reciclaje.
•Criterios básicos de estructura y orientación.
•Materiales verdes.
•Estufas ahorradoras.
•Cunigallineros.
•Huerto familiar.
Tenemos la meta de recaudar $150 mil pesos mexicanos para instalar 1000 lavabos portátiles, 2 purificadores de grandes cantidades de agua y movilizar a la brigada. Esto beneficiará directamente de familias y/o albergues de familias damnificadas.
Por favor, ayúdanos a recaudar los fondos necesarios para lograr nuestro objetivo lo antes posible. Tu ayuda es urgente.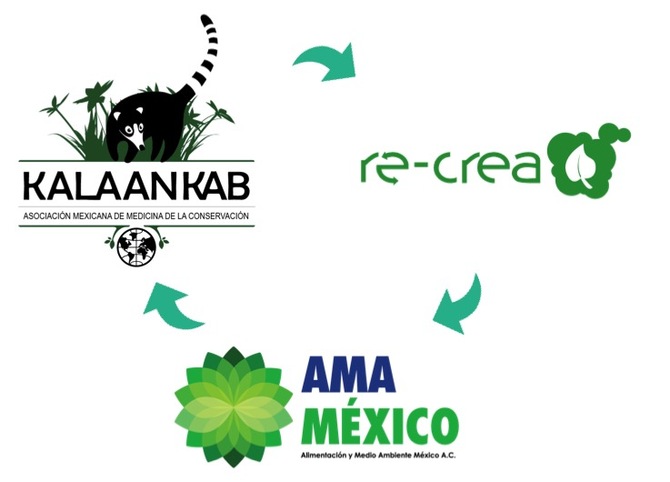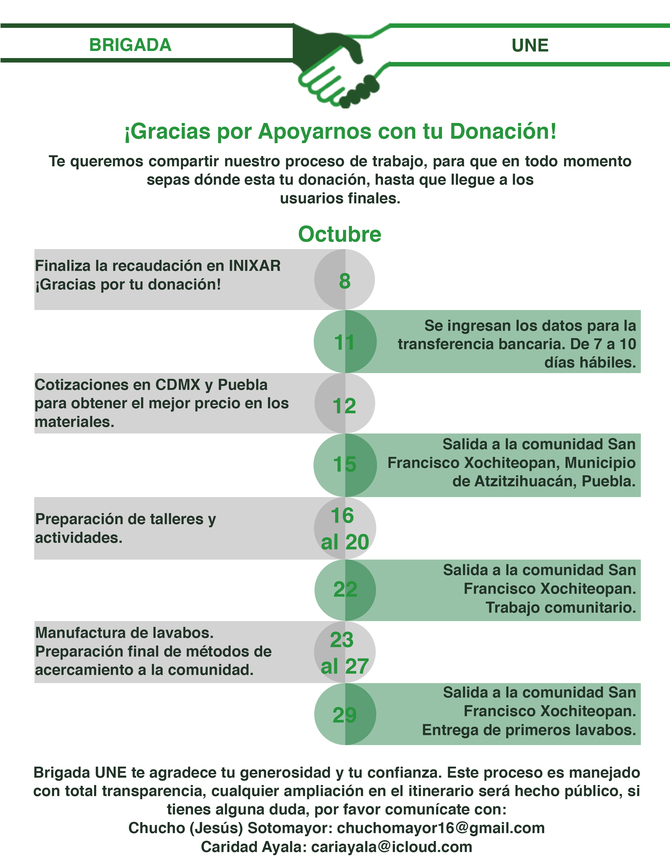 ---------------------------------------------------------------------------------------


Last weekend I was in two localities from Puebla and Morelos states that were affected by the earthquake of last September 19. I was able to observe a real health emergency given by the real conditions to live. Thousands of families currently live without a house and without sanitary infrastructure. In response to this emergency, the Mexican Association of Conservation Medicine Kalaankab AC (
http://www.kalaankab.org/brigada-une.html
), RE-CREA AC (
https://es-la.facebook.com/recreamexico/
) and AMA MEXICO (
www.amamexico.org.mx
) formed the brigade UNE (One Health for Emergencies). We are a group of non-profit organizations interested in health, education, sustainable development, safe water and food sovereignty. In these moments of crisis, basic elements to live are committed, such as access to safe water, basic health services, and a roof to protect families to protect families from the weather. Therefore, it is urgent to act actively. It is recognized that after these natural events, health services collapse due to the high demand for medical service of direct or indirect injuries associated with the event (wounds, pain, malaise). Subsequently, it is common the emerge of water-borne (gastrointestinal) or vector-borne (arthropods and rodents) diseases to emerge, which mainly affect children. Without proper and prompt attention, a widespread health problem can be reached in the affected areas. In order to seek and promote Une Health of the most vulnerable communities, we will implement immediate measures of disease prevention and health education. In the medium and long-term, we will incorporate a strategy of environmental education and sustainable development for the adequate reconstruction of the affected areas.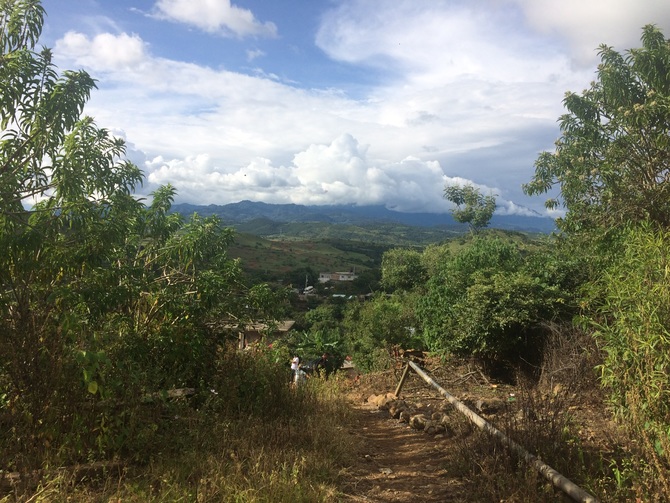 Action plan
Disease Prevention and Health Education
Installation of portable handwash sinks in houses and water purifiers in common places (shelters). Training on the proper use of handwash sinks.
Workshops and infographics of health care.
• Washing and disinfecting hands.
• Washing and disinfection of kitchen items.
• Washing and disinfecting fruits, vegetables and food cans.
• Personal hygiene with little water.
• Prevention of water and vector-borne diseases (arthropods and vectors)
Environmental Education and Sustainable Development
Construction of sustainable infrastructure.
Workshops and didactic activities focus on environmental care and sustainable development.
• Trash management and recycling.
• Basic criteria of construction.
• Green materials.
• Save stoves.
• Family vegetable garden.
We have the goal of raising $ 150,000 Mexican pesos to install 1000 portable sinks, 2 purifiers of large quantities of water and to mobilize the brigade. This will directly benefit affected families and/or shelters. Please help us to raise the funds to achieve our goal as soon as possible. Your help is urgent
¿Quieres ayudar?
¡Necesitamos tu ayuda!
Puedes ayudarnos mediante una aportación en línea y compartiendo esta campaña con tus amigos en Redes Sociales, WhatsApp y corre electrónico, para que se corra la voz y podamos reunir la mayor ayuda posible.

Do you want to help?
We need your help! You can help us by making an online contribution and sharing this campaign with your friends on Social Networks, WhatsApp and e-mail, so the voice can be spread and we can gather as much help as possible.
¿Cómo Realizar una Aportación en Línea?
How to Make an Online Contribution?1. Da click en el botón de "Aportar".
1. Click on the "Aportar" button.

2. Te pedirá iniciar sesión en tu cuenta de inixar; en caso de no tener una cuenta, puedes crearla fácilmente con tu correo electrónico o redes sociales, aquí:
https://www.inixar.com/registro/nuevo
.
2. You will be asked to log in to your account; in case you do not have an account, you can easily create it with your email or social networks, here:
https://www.inixar.com/registro/new
.
3. Podrás escribir la cantidad que deseas aportar (en pesos mexicanos) y seleccionar una de las increíbles recompensas que tenemos para ti.
3. You can write the amount you want to contribute in Mexican pesos (exchange rate 1dlls = $17.70 pesos mxn.) and select one of the incredible rewards we have for you.
4. Da click en "Continuar" y selecciona tu método de pago entre: Tarjeta de Crédito/Débito, PayPal, Depósito en Bancos, Transferencia Electrónica (nacional e internacional), y Depósito en Tiendas de Conveniencia (7-Eleven, Soriana, Farmacias Guadalajara, Tiendas Extra, entre otras).
4. Click on "Continue" and select your payment method like: Credit / Debit Card, PayPal, Bank Deposit, wire Transfer (national and international), and Deposit at Convenience Stores (Woolworth, 7-Eleven, Soriana, Pharmacies Guadalajara, Extra Shops, among others).
5. Da click en "Continuar" para finalizar. Si tienes alguna duda o necesitas ayuda, puedes pedir soporte en el chat en línea que se encuentra en la parte inferior de la página, al correo soporte@inixar.com, o al teléfono (01) 81 1972 4872.
5. Click "Continue" to finish. If you have any questions or need help, you can request support in the online chat located at the bottom of the page, at support@inixar.com, or at (01) 81 1972 4872.
6. Por favor Comparte.
6. Please share.


Contact information
Please make a donation to view contact info