Escalando Fronteras: Una Vida Con Más Opciones
About this project


In the 21st century the city Monterrey lives in an undeclared social segregation.

At the margin of the universities, hospitals and avenues of the first world subsides a neglected population, recessed in the hearts of the many hills that are in the city. There, the youth survive, abusing drugs and dying without acknowledgment from society. This is for a simple reason: they don't know that these places exist, nor ever have they been there.
The project Climbing Borders: A life with more options looks to improve the opportunities for development for these boys, girls and young adults that inhabit vulnerable zones in Monterrey.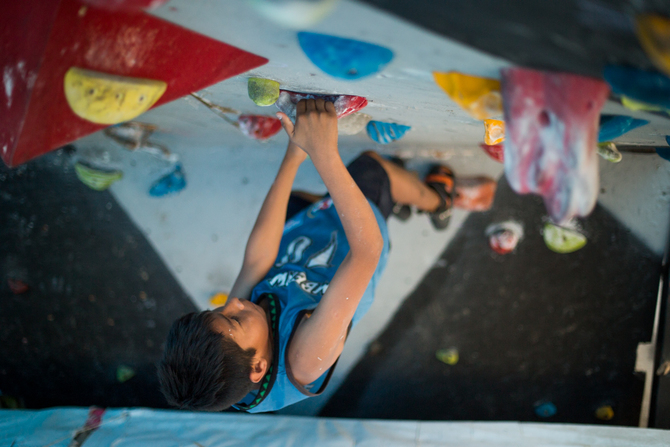 At Climbing Borders, we firmly believe that:

A social intervention program based on sport climbing and playful activities can contribute to the growth of sociocognitive functions of kids and youth.



By working with youth, we are encouraging leaders of change.

The beneficiaries are directly reached: they are kids and youth of both genders, between 3 and 17 years of age. As for tangential beneficiaries, they are the families, neighbors and general population in the poverty polygons where we work. With active youth their communities, they generate virtuous circles of integrity, resilience and communal inclusivity.
Where does your donation go?
The raised funds are used in different activities focused to promote the cognitive development, leadership values, teamwork, respect, self-esteem and conflict resolution. Our principle activities encompass the following two categories:

2.-On one side, we introduce sport activities that include a clear focus of prevention of violence and that are complemented by informative, educational campaigns, so that the youth are informed about the of integrating into the school system, to solicit scholarships and support. Kids and youth have instructed weekly climbing training in indoor gyms. Weekend outings to the mountains are made of mixed groups, and don't exceed 20 people or a 3:1 participant-volunteer ratio. The advisors and capacitations of mentors model for individual groups, depending on the specific subject.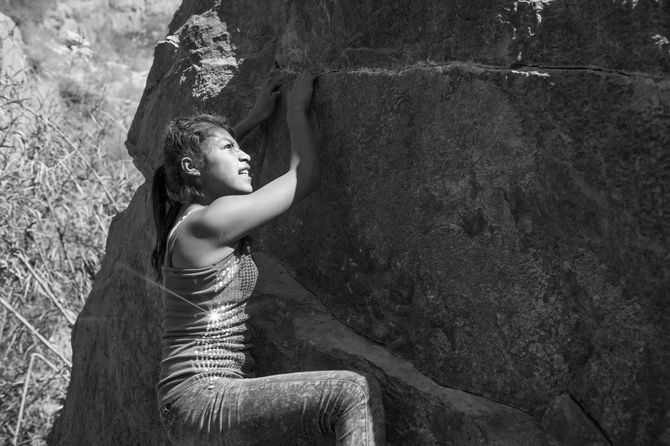 2. In a form parallel to these sport activities, we create formative activities that contribute to encourage leadership between young adults in the selected colonies. Some of these activities are:


Cultural workshops that include photography, painting, craft work.
Workshops on collective reflection (that compliment the climbing activities) supervised by a team psychologist.
Periodic informative campaigns, for the youth to be informed about: the possibility of reintegration into the school system, applications for scholarships and continued support.
Individual and family psychological monitoring.
Our History
In February of 2014 the civil association "Climbing Borders" was born. We know first hand the problems of violence, drug addiction and poverty that abounds in the marginalized neighborhoods of Monterrey. Amid a gray landscape, there is a contrasting image: boys and girls who keep an innocent smile, and have fun with the little they have. Without a doubt, the reality that they live in - one of school desertion, little attention from their parents, and drug dealers - will be the reason many of these children will try drugs by the age of thirteen.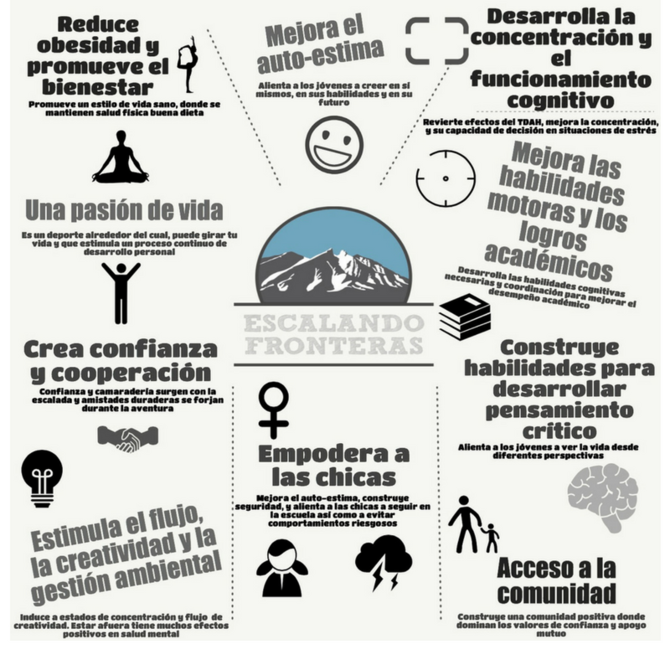 Youth in marginalized communities don't have the freedom to choose, but are rather determined by the context in which they live. So we set out to reverse a vicious cycle by working with the population's young: little kids and young adults. Our tool is rock climbing: being an extreme sport, climbing generates a genuine interest in youth and is the driving component that compels youth to participate in our programs. Values, such as discipline and responsibility, are not learned in a talk or in textbooks without putting the values to practice, and climbing requires a bond of trust between climbing partners, and dedication to reach the desired objectives.

In 2015 we became an incubated organization through COMUNIDAR, and since have worked with them to strengthen our internal operations.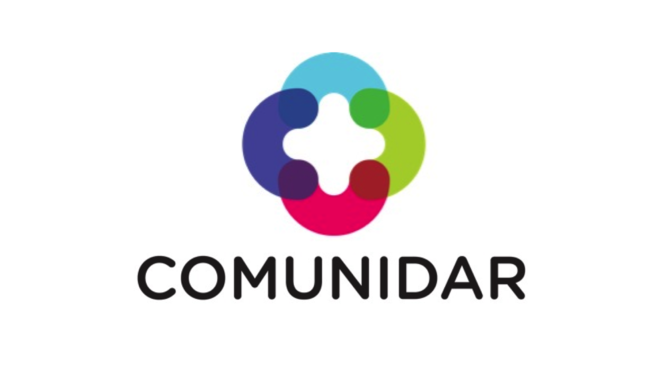 In 2015, we also realized that our youth were excelling at rock climbing, but were not developing as quickly in school. The majority of youth between 7 and 14 years old did not have reading comprehension, and some could not even recite the vowels. It cost them effort to keep their concentration and retain new knowledge. We came to the conclusion that there was a lack of development in cognitive abilities - in other words, their ability to learn - so we decided to include playful and creative dynamics that will help stimulate their imagination. In addition to this in 2016 we incorporated a team of psychologists to give individual and family attention in the community in which we work.

The elements that we would like to improve through these psychological workshops is the development of skills such as observation, attention, communication and collaborative interaction. All of these are important skills for developing the maximum potential of each individual, without with our youth suffer an important disadvantage before others at the time they engage themselves into society.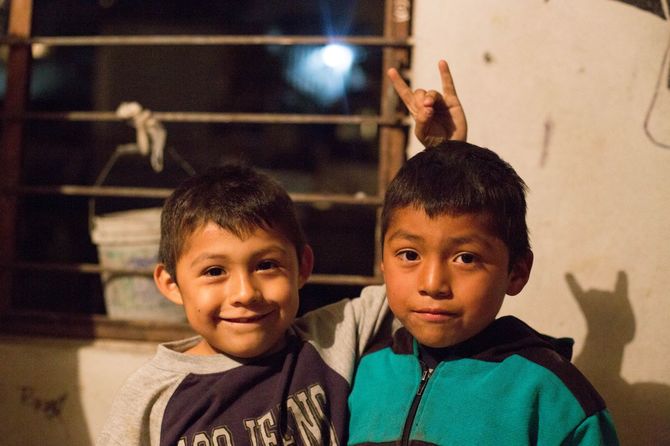 Important Achievements
In 2017, the oldest of those with Escalando Fronteras achieved a great feat: they reached the summit of the volcano Iztaccihuatl at ~5,200 meters (17,000 feet) above sea level. With the support and preparation from professional alpinist Francesca Cesario, the participants Asaél Ávila, Juan Alberto Dionisio y Heidy Olivares conquered this great challenge representing the team Climbing Borders.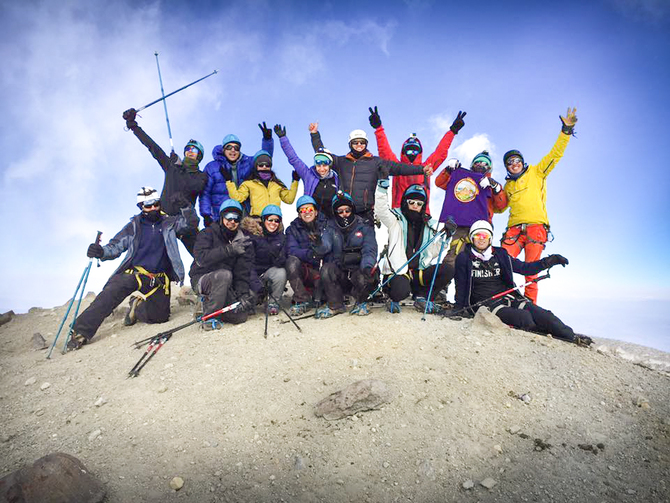 Important Achievements
The first semester of 2018 carried out a photography workshop title "FotoDocumentando el Barrio" (Photodocumenting the Hood). With the collaboration of the photographer Édgar Castañeda and the Museo Marco (Modern Art Museum) adolescents and parents of the families could learn basic techniques of the photography and have the opportunity to see their neighborhood and their daily routine from a unique and creative perspective. The result was and exposition open to the public where they showed 24 original photographs. The boys and girls of Lomas Modelo were turned into artists!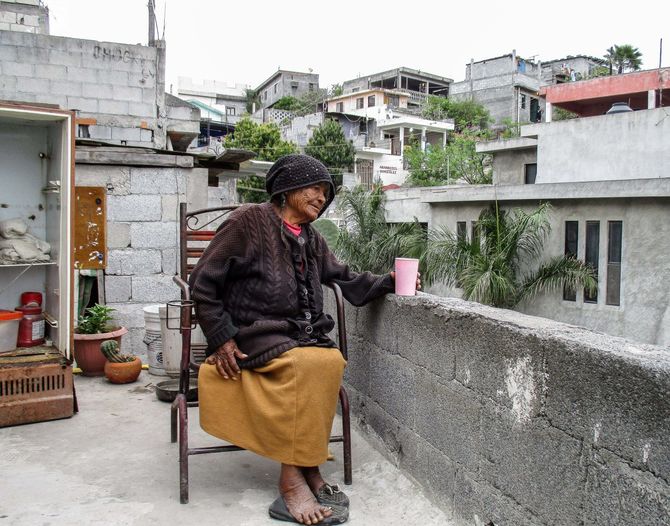 Our Goal
To be able to sustain the operation of our programs, we need the support of our society. On account of this we've reached out to Inixar, became we know that social media is a great mechanism to reach out to thousands of people.

Our goal is to fundraise 175,000 pesos ($9,500 USD) to be able to operate over the next ten months. The money will be utilized in the activities already mentioned: climbing trips, mountain camping, recreational workshops, psychologists, and informative workshops.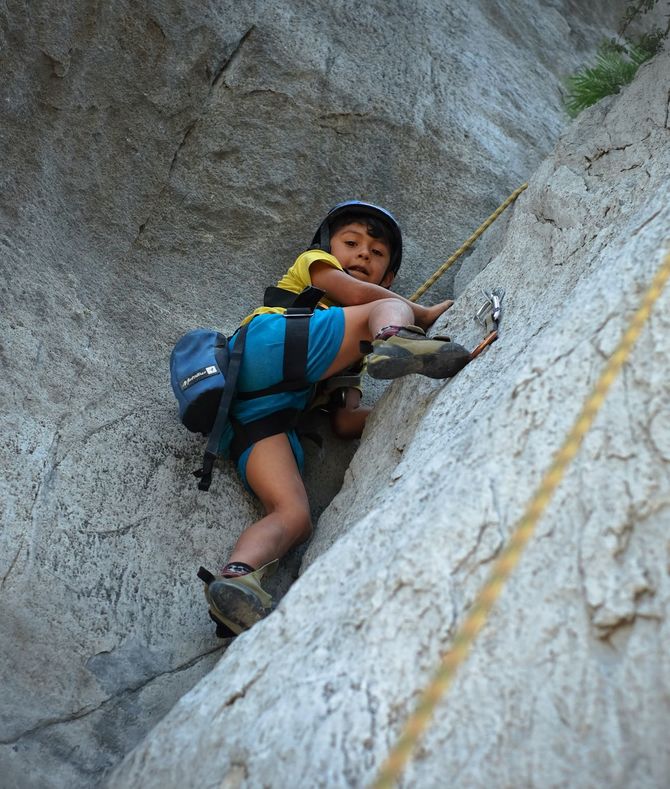 What we have achieved so far

Along the four years of work with the same community we have been able to check the transformative power the climbing has on the lives of people. On on side, the early accompaniment of youth has been that 90% of our participants have not fallen to risky activities such as alcohol consumption, drugs, or gang affiliation. We also have certain cases of success, such as Asael Avila who want to retake school and is now studying a career in industrial engineering with the supports of certain donors through Climbing Borders. Heidy Olivares has also started studying and is at the point of graduating high school, and hopes to begin a professional career in human rights. In the case of Cesar Galvan, who began as a participant with Climbing Borders and is now a certifying outdoor guide and member of our staff, and in addition works for a salary doing what he loves to do most: climbing in the mountains.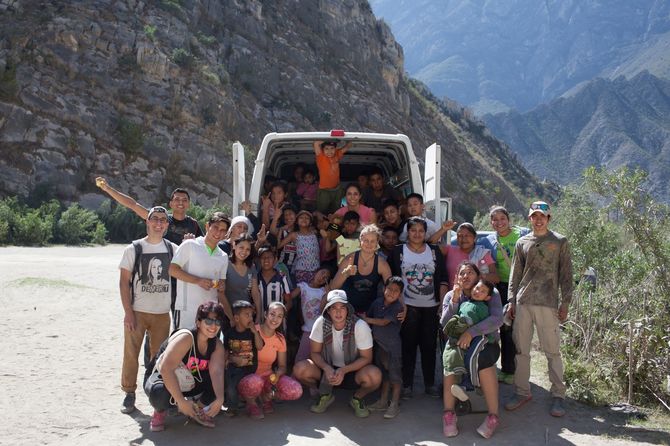 Through these 4 years of operation, the Climbing Borders Team has turned into a big family. With your help, we can continue growing. We need you!
The Team
General Director: Nadia Vázquez Cortés
Community Liaison Director: Alejandro Medina Fuentes
Operations Directora: Tiffany Hensley
Operations Team: César Galván, Asael Ávila, Heidy Olivares, Juan A. Dionisio
Psychologist Team: Arturo Valdez, Angie Montemayor, Anasiria Garza
Want to Help?
You can support us with a contribution online and by sharing the link with your friends on social media, WhatsApp and by email. It's important that word travels and that we reach our goal as soon as possible!
How to make a contribution online?
1. Click on the "Donate Now" .

2. It will ask you to log in your account of inixar; in case you do not have one, you can create it easily with your E-mail or social media, here:
https://www.inixar.com/registro/nuevo
.
3. You can write the quantity you want to contribute y select one of the amazing rewards we have for you.
4. Click in "continue" and select the payment method, Credit/Debit Card, PayPal, Electronic transfer (national and international)
5. Click in "continue" to finalize the transaction. If you have any doubts or need help, you can ask for support in the online chat found at the bottom of the page, our e-mail soporte@inixar.com, or whatsapp: +52 81 1904 6303.
6. Please share. Thanks a lot!